Anne led the participatory evaluation of E-Democracy.org's Inclusive Social Media project.
Building from its commitment, "inspiring inclusive community engagement online," E-Democracy launched this project with support from the Ford Foundation and expanded it with Knight Foundation funding. This comprehensive multiyear effort to aggressively expand inclusive Neighbors Forums to reach 10,000 participants had the following objectives:
Demonstrate that neighborhood-based online forums can and should work in high-immigrant, low-income, racially/ethnically diverse neighborhoods
Identify how such success is accomplished
Serve as a platform to help improve the success of others pursuing similar goals
Increase interest by other funders to expand such efforts
Two high-immigrant, low-income, racially and ethnically diverse urban neighborhoods were selected for this Minnesota-based project: Frogtown in St. Paul and Cedar-Riverside in Minneapolis.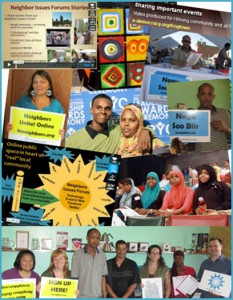 Central to the evaluation was determining the suitability and value of the approach and methods relative to outcomes. We wanted to know what could be learned from the results to inform E-Democracy's future work and that of others committed to inclusive online engagement.
We chose a participatory evaluation approach that relied on the insights and wisdom of participants in the Frogtown and Cedar-Riverside Neighborhood Forums, outreach staff, and volunteer forum managers, and supplemented with simple data analyses of forum posts and posters.
The evaluation examined the following program outcomes:
Develop outreach and information leadership-development structures and techniques
Increase forum size, diversity, energy, and community-building potential
Engage community organizers, community organizations and institutions, and elected officials
The results of the evaluation were used to shape the next several years of intense outreach and engagement of people of color, in poverty, and new immigrants supported by a Knight Foundation grant.