Client: Hennepin County Regional Rail Authority; prime consultant SRF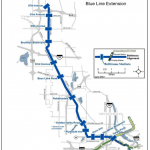 Stakeholder engagement design for station area planning: The 13-mile METRO Blue Line extension (Bottineau) in the northwest Twin Cities runs from Minneapolis through Golden Valley, Robbinsdale, Crystal, and ends in Brooklyn Park. Up to 11 stations are proposed, and from March 2014-March 2015, plans are being developed for the area around the four southernmost stations: Van White Boulevard, Penn Avenue, Plymouth Avenue, and Golden Valley Road.
The engagement process design is driven by the client's commitment that the station area plans will be driven by extensive stakeholder involvement: Working with stakeholders to ensure their concerns and aspirations are directly reflected in the alternatives developed and provide feedback on how their input influenced the decision.